By Galatta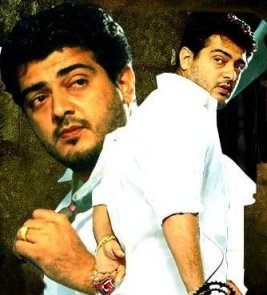 Ajith -Saran combination has worked out once again. Ajith appears amazing in dual roles and he is a delight to watch.

Jeeva (Ajith) runs a driving school in Chennai. He lives with his mother (Sujatha) a widow and his friends who work in the school.
Pooja, a girl living near the driving school meets Ajith in search of a dog to mate with her dog. This leads to further meetings and finally they end up as lovers. Manthram (Babu Antony) a local dada buys up the vacant land opposite to the driving school. Sujatha invites Manthram to her house. She introduces her son to him. She tells him that the son who saw his father killed by Manthram was given away in adoption to a couple from abroad. Sujatha and Nizhalagal Ravi had two sons who are twins. Nizhalagal Ravi is a hit man to Manthram. After marriage Ravi decides to lead a life away from crime and Manthram lets him go. Ravi however turns out to be a police informer and squeals on Manthram. Manthram kills Ravi and one of the
son is witness to the murder. To avoid further conflict Sujatha had given the son to the couple from abroad.

A driver of the driving school elopes with a girl to Thuthukudi, the harbour town. They take shelter in a police station and ask the inspector to help them. The inspector informs the girl's parents who come to the town. Ajith too comes to the station to take his car back.
At the station he finds the inspector giving him respect and in the streets people call him `thalae' and run
away in fear. He also gets `mamool' money. He is unable to understand the happenings and goes back to Chennai. The real `thalae' is the other twin who was adopted by the couple. He ran away from the airport and found his way to the harbour town. He grew up to be a dreaded rowdy known as `thalae' to everybody. Due to the actions of his twin brother `thalae' gets into trouble with Samudhrakani (Pithamaghan Mahadevan) a respected senior don of the area. Finding the pressure building up `thalae' gets his twin brother down to the town and exchanges places to escape from the dragnet spread by Mahadevan. Now `thalae' reaches Chennai with a aim to wipe out his mother and her business and brings her to the streets for abandoning him at the young age and leaves the job of killing his twin brother to Samudhrakani.

The city slicker turns out to be a smart cookie and manages to wriggle out the situation and flees the town with thalae's aide Surla (Ramesh Khanna). He cannot go back to the school because `thalae' threatens him that he would kill his mother if he came back. Just when `thalae' has successfully finished his plans and put an end to the school he is shocked to hear Sujatha lauding her son whom she sent off to give the other son a good life. She repents that the other son is not present to save her from this predicament. He is remorseful and at this juncture Manthram turns up. The face
to face meeting sparks off a battle with Manthram. Samudhrakani and another Don too join the battle against `thalae'. The city slicker Ajith too turns up. The twins fight the three pronged attack. They emerge victorious. `Thalae' leaves the city and asks other's not to tell about his identity to his mother who is recovering in a hospital.

Ajith excels in dual role - that of a carefree driving school instructor and an underworld Don. Humour comes naturally to Ajith. Pooja as his lover looks pretty but does nothing by way of acting.
Actually speaking she does not have much scope to perform. Karunas, Vaiyapuri and Ramesh Khanna provide some lighter moments. Sujatha as Ajith's mother, Pithamaghan Mahadevan as Samudhrakani and Babu Antony as Manthram have done their job neatly. Barring logic and an old fashioned story, Saran has given a lighthearted and pure 3 hour commercial masala film. The director could have avoided double meaning dialogues (meant for the front benchers) which are laced through out the film. Among the six songs of Bharadwaj, the opening song "Unakkennae... Unakkennae..." by Vairamuthu is good. The background music, though a trifle loud at times, lends itself to the narrative, which in turn is fast-paced. Super Subbarayan's fights are worth mentioning.

Verdict: Average